Pole Mountain, 2009-2011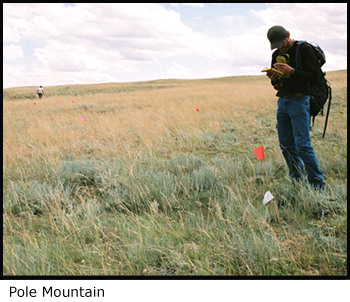 ACR was involved with the Pole Mountain Military Munitions Response Program (MMRP) site Remedial Investigation/ Feasibility Study (RI/FS) from 2009 through 2011. This MMRP site is on U.S. Forest Service administered land in southeast Wyoming. It was used as a training ground and military maneuver area from approximately 1906 through 1960. As the latest possible munitions in the area are over 50 years of age all munitions and related material were considered historic. ACR's UXO archeologists assisted the primary contractor by performing preliminary cultural resources surface survey ahead of geophysical mapping and monitoring excavation of subsurface metallic anomalies. Archeological sites were documented while UXO remediation took place and historic Munitions of Explosive Concern (MEC) items were recorded by archeologists before demolition.
Vancouver Barracks, 2011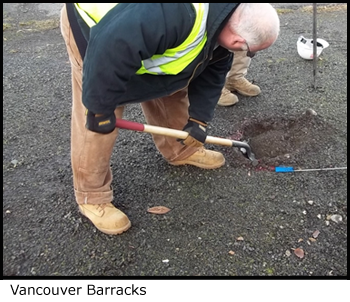 In 2011 ACR UXO archeologists conducted monitoring work of over 191 excavated areas on the South Portion Vancouver Barracks Munitions Response Site (MRS). Live, WWI-era grenades had previously been found buried in the area. This MRS is part of the greater Fort Vancouver historic site which is under the jurisdiction of the National Park Service (NPS). Excavations within the Vancouver Barracks MRS site had the potential to uncover sedimentary strata that were contemporaneous with the historic periods of significance for the historic site, as early as 1827. ACR worked with NPS archeologists to identify and map uncovered instances of this sedimentary area, and to map stratigraphic profiles of each excavation. These profiles and mapped locations helped give the NPS a better sense of the anthropogenic and geologic-derived sediment deposits in the area and to assess the impacts of the munitions response project to the historic site. ACR archeologists also aided UXO teams in real time by identifying geologic-derived strata, under which no munitions were likely to be found. With ACR's assistance, the project was completed under budget and ahead of schedule.