What is UXO Archeology?
UXO Remediation Archeology, or UXO Archeology, is an adjunct to archeology that specializes in supporting UXO remediation projects or projects involving munitions-related components. While once thought to be the exclusive domain of active military installations, it is now known that UXO can be uncovered almost anywhere, including National Forest land, National Parks and private land. In the case of projects functioning under federal monies, permitting, or jurisdiction, these projects qualify as undertakings subject to cultural resource laws, including Section 106 of the National Historic Preservation Act (NHPA). UXO archeology addresses safety concerns of non-UXO trained archeologists working in areas with live munitions. It also addresses a growing concern that UXO projects may be unnecessarily impacting archeological resources. Specially-trained UXO archeologists that have received accredited UXO training and are versed in the two areas of focus of UXO Archeology and can help alleviate these concerns.
The UXO Archeologist
The discipline of UXO Archeology applies all of the techniques typically used in traditional archeological research to projects with ordnance-related items. UXO archeologists should possess a strong understanding of prehistoric archeology, historical archeology, geomorphology, geophysical surveys, and munitions (historic and modern). In addition, they require specialized training beyond traditional archeology. UXO archeologists are certified as UXO technicians through a DDESB-recognized private or military school. UXO archeologists often possess additional training for chemical and biological hazards, permitting them to work in tandem with UXO identification, removal, and disposal teams. When not serving in the capacity of UXO Archeologist, these specially qualified archeologists may perform the duties of a UXO Technician.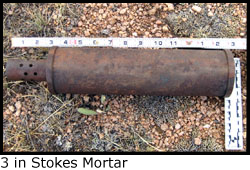 Areas of Focus
The field of UXO Archeology can be separated into two main areas of focus. The first area concerns older archeological features and artifacts that happen to coincide with later ordnance such as, a Native American fire hearth discovered within a modern military range. By virtue of the ground-disturbing methods employed during UXO identification and remediation, excavation of sediments and removal of metallic items is required. As such, these projects have the potential to effect non-munitions cultural resources that may be present on or beneath the ground surface. Non-munitions artifacts and features may be difficult to recognize by personnel other than trained professional archeologists. Having trained archeologists working alongside dedicated UXO personnel can prevent unintentional disturbance of archeological sites.
The second area of focus concerns munitions and related infrastructure over 50 years of age, which themselves may be considered historic artifacts or features. This includes fuzed and fired munitions and low-ordered munitions which may contain active explosive components despite their age. Under certain federal or state cultural resource laws and regulations these historic items need to be documented and reported on a project, but not necessarily preserved, like any other artifact 50 years or older. Potentially hazardous artifacts may still need to be recorded for their historic value before demolition. This is where cross-trained UXO Archeologists are essential. These archeologists can work inside the exclusion zone (EZ) of a UXO recovery project and perform the necessary recording of munitions artifacts without slowing remediation operations or compromising safety.
UXO Archeology Projects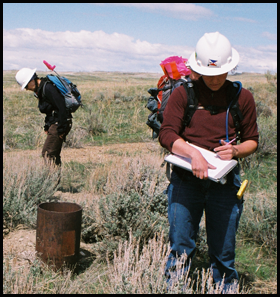 UXO Archeology projects may be located on active military installations, installations slated for closure under the Base Realignment and Closure Act (BRAC), Formerly Utilized Defense Sites (FUDS), or Munitions Response Areas (MRA). However, munitions may also be encountered on private, municipal, state, or public lands not yet recognized under any formal classification. Historic sites open to the public, such as battlefields and abandoned military posts, may also possess potentially hazardous munitions or munitions-components. UXO-related projects are often managed by the various branches of the Department of Defense (DOD) under the standards of the Department of Defense Explosives Safety Board (DDESB), but archeologists may respond to private parties and non-federal government agencies.
UXO archeologists support a wide variety of remediation projects. Their main goal is to ensure projects are completed safely while complying with applicable cultural resource laws and guidelines. Tasks especially suited to UXO archeologists include:
Completing pedestrian surveys of areas slated for UXO remediation,
Performing archeological monitoring during the removal of UXO or munitions-related components,
Identifying, recording, and reporting historic UXO or munitions-related components recovered during the remediation process,
Identifying, recording, and reporting non-munitions related artifacts and features encountered during the remediation process, and
Conducting traditional archeological projects in areas where UXO may be encountered and require safe reporting, but where UXO remediation is not the primary focus of the undertaking.
UXO Archeology addresses archeological resources juxtaposed with more recent ordnance as well as munitions that are considered historic artifacts themselves. The issue of how to bring UXO projects into compliance with cultural resource laws is a concern for land managing agencies, the Department of Defense, State Historic Preservation Offices and other cooperating parties. Archeologists trained in accredited UXO schools or through the military are versed in both traditional archeological methods and the identification and safe-handling procedures of munitions, whether or not they are historic. The application of these specially-trained archeologists on UXO projects can help alleviate concerns from all parties involved, ensuring that compliance with cultural resource law is maintained without compromising safety.
© ACR Consultants, Inc.© 2013